Da non perdere
Guided walks of Lecce, Ostuni, Alberobello, Gallipoli and Grottaglie
Local food delicacies, wines and olive oil tasting
Private food and wine lunch and dinner
A full immersion into local cuisine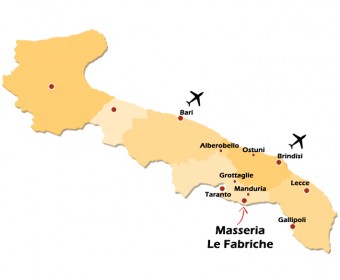 Itinerario in breve
Notti: 6 notti
Periodo: da Aprile ad Ottobre
Soggiorno: 6 notti in masseria 4 stelle
Pasti: Colazioni giornaliere, parti come da programma, bevande incluse
Presentazione
This cooking holiday combines a great stay in an amazing location, in one of the most beautiful areas of Italy, learning various Italian dishes using some of the best local ingredients and having great fun exploring the area.
Nicknamed the heel of Italy, Puglia's cuisine has been influenced over the centuries by its neighbours – and invaders. The Greeks, the Frenchs, the Germans, the Arabs – all of them have influenced today's Apulian cuisine.
This genuine land, kissed by the Mediterranean sun for over 300 days a year, is scattered with fortified castles and whitewashed Trulli, Puglia's distinctive conical shaped swellings, and carpeted with a silvery sea of olive groves. It also has an incredibly rich natural offer: the area produces most of the country's extra virgin olive oil, full-bodied wines and is famous for its intensely flavoured olives, table grapes, almonds and figs.  Other local specialities include orecchiette, an ear-shaped pasta, seafood risotto, fava beans (which are dried and made into a paste) and burrata, a creamy cheese similar to mozzarella.
There are a number of sights to savour along with the turquoise sea and long sandy beaches, covering most of the 800 km of coastline: the Normans' mysterious gift, Castel del Monte; the city of Lecce's glorious Baroque churches; the cathedral in Otranto's amazing mosaic floor; the Masseria, local country houses surrounded by olive groves and a glorious nature.
The Location
This program includes 6 nights at Masseria Salamina and 5 intensive cooking classes in Italian and typical Pugliese cuisine, held by the local Chef. You will visit the food markets and will experience cooking like a local! The week includes three fabulous meals a day and plenty of time to lounge by the pool and in the lush garden.
The stunning 1600 luxury Masseria is immersed in a wonderful expanse of olive tress, a few kilometres away from the golden beaches and crystal water of the Adriatic, 65 km south of the capital city of the region, Bari. It is a place rich with history and fascination in which ancient farming is united with authentic hospitality. Battlements, dry stone walls, olive groves and the azure blue sea will cause you to fall in love with this unique estate. Originally a fortified farmhouse, through the centuries the Masseria has maintained its function both as an agricultural centre and as an aristocratic residence, thanks to the efforts and the love for this estate on the part of the four families who have owned it over the centuries.
It has 5 Manor's rooms fitted out with antique furniture and exquisite fittings such as the floors and bathrooms which are ornately decorated with mosaic marble.
The rooms, some with private balcony and sea view, jet bath or large walk-in shower, are all equipped with heating and air conditioning, flat screen TV, safe, refrigerator, hair dryer and Wi-Fi connection .The property lies on a 48 acres of land in which owned by the De Miccolis Angelini family, who produce a super quality of extra-virgin olive oil from roughly 11.000 olive trees! Other then that, a large number of vegetables, fruits, legumes and herbs are grown here – all of which being used during the cooking class.
Guests can enjoy the lush gardens surrounding the Masseria, the breathtaking view from the roof or simply relax by the pool.
Immagini
Programma
Giorno 1:
Arrival in Bari or Brindisi airport, meet-up with the guide and transfer to the Masseria.
Time to relax and wander around, getting to know the property while enjoying an aperitivo right before your first dinner.
Meals: Breakfast, Dinner.
Giorno 2:
After breakfast departure toward Lecce, commonly nicknamed "The Florence of the South" because of its countless Baroque beauties, with its lovely centro storico (historic centre) and Roman ruins; treat yourself to local delicacies like puccia (flat bread filled with your choice of salami and everything else!) and pasticciotto (sweet cake filled with lemon custard).
After a nice walk into the small alleys of the town, we will head back to the Masseria for your first lesson, based on fresh and filled pasta and local glory focaccia.
Dinner based on your efforts.
Meals: Breakfast, Tasting Lunch, Dinner.
Giorno 3:
In the morning visit of an artisanal dairy farm for a live demonstration of mozzarella and burrata making with tasting of the produce, then we will move to the most renowned wine estate in the area where we will taste the local glory "Primitivo di Manduria" and visit the dedicated Museum.
Return to the Masseria to discover the secrets make perfect pizza and other local specialties like panzerotti, friselle and taralli.
Dinner based on your efforts.
Meals: Breakfast, Tasting Lunch, Dinner.
Giorno 4:
After a very pleasant drive through the Itria valley, we will reach Alberobello, the World Heritage Site of fairy-tale trulli. Guided visit of the site, with great shopping opportunities of local texiles. Lunch at leisure.
Following visit of an ancient oil mill where  you'll be told everything about the so called green gold, the extra-virgin olive oil renowned worldwide.
The next stop is in Ostuni, regarded as an architectural jewel, commonly referred to as "the White Town" for its white walls and its typically white-painted architecture. Get lost in the hundred alleys, amongst workshops and Baroque churches…
To complete such a glorious day, what's best then a dinner al fornello? You'll be served with various cuts of local meats in a butchery (yes, a proper butchery!) hosting some quite simple seating. A real Pugliese experience!
Meals: Breakfast, Dinner.
Giorno 5:
Your first destination today is the picturesque town of Gallipoli, where we will visit the local fish market, very well known among the locals to be a pilgrimage destination for fresh fish addicted, and of course we won't miss to taste some straight from fishermen!
Based on the season and weather permitting, we will sail out for an unforgettable boat excursion in the crystal clear waters of the Adriatic Sea, gladdened by a spaghettata prepared by our Captain and a glass of cold Verdeca wine.
Alternatively we will relax with an horse walk, strolling by the sandy beaches and the nearby bush and refreshing with a glamorous pic-nic.
Back to the Masseria, today we'll share the secrets on how to prepare the best fish and classical seafood dishes, from mussels to octopus, and some typical vegetables preparations like parmigiana and fave e cicorie, in a triumph of Mediterranean style!
Dinner based on your efforts.
Meals: Breakfast, Tasting Lunch, Dinner.
Giorno 6:
In your last day visit of Grottaglie, the "city of ceramics", as it's called because of the large number of traditional and artistic artisanal pottery laboratories scattered in this medieval town.
Then transfer to visit an enchanting wine estate where we will taste another great red called Negroamaro other than some of the best Rosè in Italy, accompanying a light lunch.
In the evening we will make available to drive you to Lecce for a last dine out at your leisure and to enjoy the thrills of this lively city.
Meals: Breakfast, Light Lunch.
Giorno 7:
Time to get your certificate of attendance… see you for the next cooking adventure in Puglia!
Transfer to Bari or Brindisi airport.
Meals: Breakfast.
Costo e dettagli
The class is guaranteed with a minimum of 2 people.
The Organizer and its vendors reserve the right to cancel the group tour, in cases where the necessary minimum number of participants, as here above specified, has not been reached. Final confirmation or cancellation will be notified in writing within 45 (forty-five) days of the departure date.
Itinerary and food at the class may be subject to variation due to weather and/or season's availability.
Cosa include
The rate include:
Airport pickup and drop-off
Private transportation for all activities indicated in the itinerary
Local assistance throughout the stay
6 nights at the masseria
3 hands-on cooking classes
Daily breakfasts
Meals as indicated in the itinerary, beverages included
Private visit to traditional wineries
Cheese factory tour and tasting
Fish market tour
Oil-mill factory tour
Medical and luggage insurance throughout the tour
The rate do not include:
Cost to reach Puglia
Cancellation insurance (can be quoted separately)
City taxes where applicable
Alcoholic drinks, personal expenses and tips
Extras
Everything not clearly included in the paragraph "The rate include"