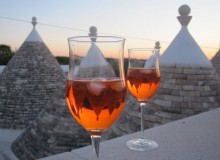 Four out of the six best Italian Rosè wines are made in Puglia: this is the verdict after the recent Mondial du Rosè held in Cannes, France.
The golden medals were assigned to "Tenuta Paraida Rosè Negroamaro" from Azienda Vitivinicola Marulli, "DOC Tavoliere delle Puglie" from Masseria Duca D'ascoli, "GIOIA ROSA Rosato IGT" from Terrecarsiche Srl and "CRETOSA" from Borgo Turrito.
Relevant results were also reached with the argent medals, with Puglia awarded 9 times out of 20.
Le Mondial Du Rosè is an international contest in which "referees", who evaluate the wines of 30 different countries on the planet, belong to the Union of French Oenologists and meet in Cannes for three days to savor the blind and comment on the productions Rosé from around the globe.