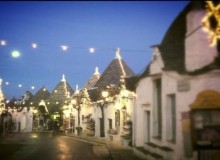 It all started in September when Max Gross, journalist from New York Post magazine, wrote his prescription to feel good:
"If your doctor has ever told you about the healing power of wine, head to the heel." He then listed a number of local wineries where tasting local wines is a must, and also suggested a few Masseria and trattoria to spend such a tasteful holiday.
Then Lonely Planet's suggestions in October invited its readers to "look south. Italy's heel has arguably the best beaches in the country, hilltop towns and ancient sights", advising that it's not only cheaper then Amalfi Coast or Venice, but added value "It's the fabulous food – cucina povera (poor man's food), simple, tasty and cheap – and the relaxed pace of life even in peak season, coupled with good-value accommodation for all budgets".
Now is the prestigious travel book National Geographic to award Puglia amongst the top ten "best value travel destinations in the world for 2014", titling its article "Where Old Ways Still Rule" because here someone can still feel like living in the past, with "Old men clutching canes chat in the distinctive local dialect. The scent of ragù floats through open doorways, blocked from the street only by hanging blankets. Families push strollers. Laundry flaps from windows."
"Will Puglia change?" finally asks the author – "Probably, someday. But not yet. For now, Puglia boasts the best of southern Italy: the pace, the traditions, the beauty. Unconquered."
Have a look at our programs for 2014 and choose the right one for you!