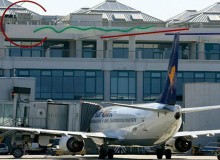 The first quarter of 2016 highlights a positive trend in air traffic on both Bari and Brindisi airports, in addition to the excellent performance of the  international traffic trend – in constant growth – making a significant increase of the national line.
In the first three months of the year, in fact, the total number of passengers travelling in/from Bari and Brindisi was 1.272.002, up 6.5% from the same period last year. A growth trend,
this, that if it were to be confirmed in the long term would enable the Apulian airports to overcome the historic milestone of passengers reached of 6,208,787 last year.
On Karol Wojtyla Airport of Bari in the first three months of this year passenger total was 839.113 units, where the results of the international line reported a +21.1% (229 373 passengers of the current year against 189,335 last year); amongst international destinations in this period that showed the largest increases were Berlin, Bucharest, Bruxelles, Dusseldorf, London and Timisoara.
In line with the trend that is characterizing for some time the dynamics of
growth in traffic, also in the "Aeroporto del Salento" of Brindisi the best figure is reported to the international line, in the first quarter, increased in value by a + 9.9% with 59.602 passengers compared to 54.233 in 2015. Among the international destinations that in the current quarter
examination showed marked increases in terms of passengers include Bruxelles, London
Basel and Zurich.
In this particular dynamic framework, very well inserted are the new routes that interest both airports.
For the summer season it have just started some new connections from Bari to Athens operated by Aegean, to Wien operated by Austrian Airlines, to ​​Olbia and Zakynthos by Volotea and to Warsaw by Wizzair, carrier which also has already opened sales to Vilnius scheduled for late October.
For the Salento Airport, as well as the resumption of the flight Verona (twice a week), Volotea has announced that by the end of May they will resume flight to Venice and will open the new route to Genova. Already launched is the Ryanair flight to Manchester, while as regards the German market other then the Eurowings flight to Cologne will be added the one to Munich operated by AirDolomiti (four times a week in August) and a Flycar flight beginning of May until the end of October, flying twice a week to Stuttgart.