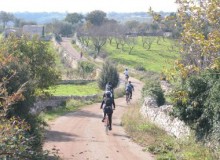 The British newspaper Sunday Times celebrates Puglia, awarding it as the Italian place to go for nature and bike lovers.
Thanks to its morphological shape and wide hilltops, the region has been considered the ideal destination for eco-friendly vacations.
Sunday Times dedicated a broad emphasis to Puglia in the last Sunday's edition titled "Italy 2013: top 25 holidays". An important acknowledgement giving the forthcoming summer season, especially during a crisis period like this. "Italians are an irrepressible people. Their enthusiasm for the delights of their country, from the wonderful food to the rituals of the passeggiata, is undimmed and infectious. Visitors can't help but catch the bug."
The Stanley Stewart's report celebrates Puglia, along with Toscana, Sardinia, the Amalfi coast, the lakes and the Dolomites, amongst those "who keep on attracting a growing number of visitors: all because of its relaxed appeal and its Baroque towns, its immaculate shores and its delicious local food."
"It's relatively flat and, thus, the ideal terrain for a bike tour" explains the British newspaper. "The itinerary guides you through the olive groves in Egnatia (an ancient Roman town), along the coastal road from Monopoli to the small harbour of San Vito, packed with coloured boats, before cutting through inland toward Conversano and Alberobello, where you can lodge in a local trullo, while in the last leg of the tour you can lead back toward the Adriatic waters, getting out of almond trees and chili peppers fields".