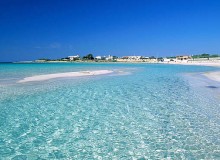 TripAdvisor, the largest trip review web site in the world, has announced today the winners of 2012 "Traveller's Choice® Beaches Destinations Awards".
Despite no Italian beach appearing neither in the world classfield nor in the European one, the Apulian shores have been awarded amongst the finest Italian beach destinations from Italian travelers, with Otranto beach jumping at the third place and Vieste established at fifth place.
This is the umpteenth prize for two of the Apulian pearls, attesting the efforts of the Region working toward environmental protection and cleaning of our beaches, barometer of how in the last years the perception of quality of life on our territory and our capacity of welcoming guests has considerably improved.