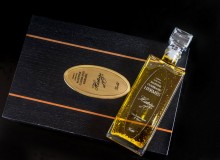 Looking at bottled, it seems more eau de parfum. Instead, it is oil. Extra virgin olive oil, of course. And the most valuable. It's called Historie d'O, is branded Hermès, but apart from the label is 100% Italian production. There is the basic version, with selected olives harvested directly from the tree and cold pressed; and the ultra-luxury variant, with particles of 23-carat edible gold (yes, there edible gold, did not you know?).
This branded oil is born in Puglia, in Spongano, a town of three thousand inhabitants hidden inland of Salento penisula, south east of Lecce. Here, away from the fashionist's tourist circuits of Puglia, Patrick Guerrand-Hermès, among the richest men in the world, according to Forbes magazine, as well as great-grandson of Thierry, the founder of the French luxury house, bought with his wife Martine an ancient groves five acres of hardy and selected trees. Curious. Among all the olive trees in the world, to produce the oil they wanted just that, in a quiet and sunny land.
In these parts it is said that the olive tree to grow well, needs five essential "s": silence, solitude, sun, rocks, drought. Spongano is a bit 'all these things put together, as well as having a beautiful old town, a few steps from the crystal clear sea. The properties of Hermès is along the path of More, secluded street of the most evocative, which is the space between green fields, stone walls and farms.
The couple of artists initially wanted the property to be a luxury spa, but the project was hampered by local environmentalists. The production of oil instead goes on, and it is of interest only to Martine, who in fact gave the farm its name. Patrick on the other hand, prefers to focus on his polo team, the horses and her amazing art collections. In a few days the oil from Puglia Madame Martine Guerrand-Hermès will be on the shelves of the food hall at Harrods in London, unique selling point for the moment. Fifty pounds a bottle for five hundred milliliters packaged in a ash case; more than double the gold version, but by reservation only, and in limited quantities.