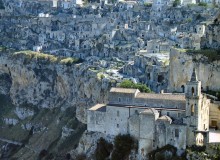 TripAdvisor presents the UNESCO Cultural and Natural heritage sites best rated by travellers around the globe, and highlights a selection of tours bookable on TripAdvisor to maximise their experience in these wonders of the world.
Matera is ranked 6th in the top 10 list, being the only Italian site while obtaining a very rewarding n. 1 in both European and Italian list.
The Sassi is breathtaking in its scale. History is literally carved into its landscape, from Neolithic times until the present day. It may look at first glance like an abandoned ancient town with buildings piled high on top of each other, but as you begin to explore its cobbled alleyways and steep winding streets you discover stories of human endeavor stretching back through the centuries – from caves turned into homes, to 13th century frescoes to the magnificent gilded Cathedral.
Discover this fascinating site with a walking tour during one of our Puglia programs, including not just Matera, but also Bari, Trulli of Alberobello and Castel del Monte.