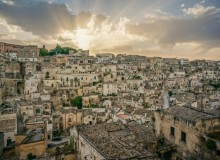 A path of 1,5 kilometer at 25 meters in depth, a few steps away from the main square of Matera, the European capital of culture 2019. It's the hypogeum called ' Matera Sum ', a veritable underground city discovered a year ago in a privately owned site.
Along the underground space is it possible to visit homes, roads, tanks, production sites, the remains of a place of worship, or even two, probably of medieval ages, all carved into the rock. Of particular importance are the "homes" with peculiar openings which allowed light and air to enter into the underground rooms, within which it is possible to imagine the unfolding of the everyday life of the "people of the underground".
The excavations have brought to the surface the presence of land dating back to hundreds of years ago 'which could help to accurately date the Hypogeum. "When in Matera started to erect buildings it was customary, by the workers, knowing that in there were empty spaces, make holes and discard the unused land down- explained creative director Giuseppe Grande – also in the place of workship area there is the existence of another underground part that was emptied in small part but immediately filled with earth. This means that there is another piece of history that goes down to 40 meters under the ground. ".
Come experience the magic of Matera with us!