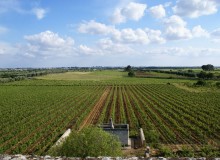 The southern Italian region of Puglia has been named one of the world's Top 10 wine travel destinations by US magazine Wine Enthusiast.
The recognition comes from one of the most well known food and wine magazines in US and has seen the region awarded for the first time, as a sign of the growing interest generating from this fascinating land and its unbeatable cuisine.
Puglia, the only region in Italy to make the list, was chosen for its tourism and food offerings as well as its wines. "Flanked by two seas, magical Puglia is a thin peninsula packed tight with the same attributes that attracted us to Italy decades ago: it's an undiscovered land with an enviable quality of life," says the article.
Besides Puglia, the 2013 rankings include Monterey, California; Spain's Rioja; the Danube River region of Austria; Stellenbosch in South Africa; Vale dos Vinhedos, Brazil; Hunter Valley, New South Wales, Australia; and Douro Valley in Portugal.
Check out our food & wine experiences in Puglia!