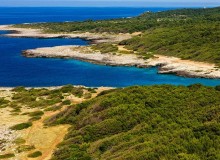 The British newspaper has collected 21 places that no one would ever think to visit in Italy, including Italian, and instead really deserve to be seen.
Among the destinations suggested stands the bay Porto Selvaggio in the Salento peninsula, "a seagirt place of ancient and insular cultural traditions", compared to Galicia or the Cornwall of Italy; then follows Matera, defined by UNESCO as "the most outstanding example of a troglodyte settlement in the Mediterranean", a wonderful and unusual place that attracts the curiosity of a growing number of visitors.
Final mention is for the Gargano promontory, with its beauties ranging from forests to sandy beaches, the region still among the least explored and little known to foreign visitors.
With the wide choice of available flights from the UK to Puglia, the attractions of this beautiful land are just over two hours flight all year round!