Trip highlights
Excellent location close to Baroque capital of the South, Lecce
6,192 metres long Hurdzan and Fry 18-hole par 71 course
Local cuisine in the on-site restaurant
Easy reachable tropical style and sandy beaches
1,200 sq mt of SPA with an holistic approach to health, wellbeing and fitness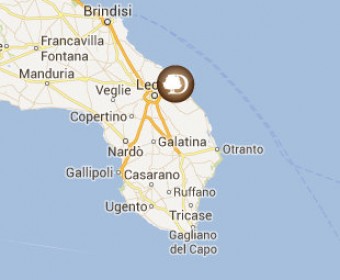 Itinerary in brief
Nights: 3, 5 or 7 nights
Period: year round
Stay: 4 stars golf resort
Meals: 3, 5 or 7 lodgings in b&b
Overview
Are you a golf lover? Take advantage of this special offer for golf addicted and book your holiday in Apulia at Double Tree by Hilton Acaya Golf Resort, near Lecce.
Discover the beauties of Apulia in this 4 stars resort with wellness centre, spa and outdoor pool, for you 2 green fee per person at Acaya Golf Club included in the stay. Acaya Resort offers an 18-hole golf course, comfortable, spacious rooms with a view, an extraordinary 1200-m2 spa, indoor and outdoor pools, gourmet restaurants, free Wi-Fi and a conference centre.
This course, home to a Costantino Rocca Academy, is perhaps the most welcoming of the five Puglia options, with open fairways and receptive greens. Settled in a natural setting and unique landscape for its beauty and integrity, in the midst of the maquis and ancient olive trees, the course offers a wide variety of design, constantly searching for perfect harmony between the natural features of the land and how the shots are to be played. It therefore requires players to use all fourteen irons and woods in their bag. The fairway grass, using a strong, dense American Bermuda grass seed, guarantees that the ball will float extremely well along the surface for shots that are always sharp and clean. On the sides, a mixture of four types of fescue ripples at natural height. For the greens, two varieties, A4 and A1, of agrostis stolonifera palustris have been used: a composition that has about twice the number of stems in the grass than conventional Penncross.
It's a good choice for golfers of more moderate ability, though it still presents a challenge off the back tees. And offers a sincere sense of hospitality, which has its roots in the traditions of Salento.
Gallery
Program
Day 1:
Arrival
Arrival at Brindisi airport and transfer in hotel.
Overnight.
Day 2:
Green fee + visit of a wineyard
Breakfast. Visit of a renowned wineyard with tasting of a selections of local food and wines. In the afternoon use of the green fee.
Overnight.
Day 3:
Green fee
Breakfast. In the morning green fee; afternoon at leisure.
Overnight.
Day 4:
Departure
Breakfast. Transfer to Brindisi airport.
Cost & Details
Price based on double occupancy (single available based upon availability) in b&b.
All holidays excluded.
Transfer to/from Bari airport surcharge € 50 pp.
Junion suite upgrade available.
What's included
The 3 night package includes:
- 3 nights in the chosen room
- Buffet breakfast
- Welcome cocktail
- Welcome gift in room
- 3 dinners at the hotel's restaurant, 2 courses and dessert, beverages not included
- 1 wine tasting in a local wine estate
- 2 green fee 18 holes at Acaya Golf Club per person per stay
- Free access to the practice course
- Pull Trolley
- Free access to the outdoor swimming pools and solarium
- Free access to the spa path
- Private parking
The 5 night package includes:
- 5 nights in the chosen room
- Buffet breakfast
- Welcome cocktail
- Welcome gift in room
- dinner at the hotel's restaurant, 2 courses and dessert, beverages not included
- 1 wine tasting in a local wine estate
- 3 green fee 18 holes at Acaya Golf Club per person per stay
- Free access to the practice course
- Pull trolley
- Daily access to the beach service (guaranteed from the 1st of June to the 30th of September)
- Free access to the outdoor swimming pools and solarium
- Free access to the spa path
- Private parking

The 7 night package includes:
- 7 nights in the chosen room
- Buffet breakfast
- Welcome cocktail
- Welcome gift in room
- dinner at the hotel's restaurant, 2 courses and dessert, beverages not included
- 1 wine tasting in a local wine estate
- 4 green fees 18 holes at Acaya Golf Club per person per stay
- Free access to the practice course
- Pull trolley
- Daily access to the beach service (guaranteed from the 1st of June to the 30th of September)
- Free access to the outdoor swimming pools and solarium
- Free access to the spa path
- Private parking