Trip highlights
Trani, Bari, Polignano, Alberobello, Altamura, Monopoli, Locorotondo, Ostuni and Otranto walking tours
Guided tours of Castel del Monte, Matera and Lecce
Olive oil, burrata and mozzarella tasting
Private food and wine dinners in typical restaurants
Cookery class in a magnificent location in Fasano
Magnificent Baroque art in Lecce
Traditional dance exhibition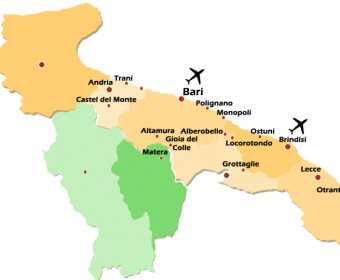 Itinerary in brief
Nights: 7 nights
Period: from September to June
Stay: 3 lodgings in b&b and 4 lodgings in half board in 4 stars hotels
Meals: 7 breakfasts + 4 dinners + • 3 special dinners + food & wine tastings
Overview
This tour includes all the main region's attractions and represent an ideal itinerary for those approaching Puglia for the first time. You'll be amazed by the extraordinary historical and artistic exemplars, by rural landscape and by superb food and wines, which here will always surprise you.
Puglia is an unexpected delight, nestled in the heel of the Italian boot: whitewashed buildings, secret castles, crystalline Mediterranean sea with a large coastline that has an abundance of seafood, an outstanding array of fruits, vegetables and vineyards ensure you will enjoy exemplary food and wine from Puglia!
Gallery
Program
Day 1:
Arrival and lodging
Arrival in Bari/Brindisi airport and transfer to your seafront hotel in Trani, where you'll be welcomed with a drink. Dining (a la carte beverages) in a local fish restaurant.
Overnight in Trani.
Day 2:
Trani / Andria / Castel del Monte / Canosa / Trani (km 115)
This morning we will visit a local market to fully act like locals, truly a genuine experience!
Your day in Andria continues with a visit to the Museum of Confetto with the sweetest tasting ever, then we fully appreciate why this town is renowned to be the hometown to the delicious burrata (made from mozzarella and cream) we'll enjoy in a diary farm, along with a special lunch based with their range of dairy foods.
In the afternoon we'll make our way  to Castel del Monte, considered to be one of the most beautiful castles of Europe as well as an example of genius medieval architecture – this mysterious octagonal shaped castle is included in the UNESCO World Heritage List.
Transfer to a magnificent wine estate owned by the Antinori's family. Crossing the, approximately, 130 vine yarded hectares, we approach the farm that reminds us of the typical "masserie" of the Murgia with its structure and brilliant white tufaceous walls.
After a tour of the cellar, you'll taste some of the wines just before a delightful dinner.
Overnight in Trani.
Day 3:
Trani / Polignano a Mare (km 90)
Visit of the coastal town of Trani, once the most important political-administrative centre of all of Southern Italy and as such was granted the title of main town in the region. This title was later revoked in favour of Bari by Murat and Bonaparte. We'll visit the characteristic old town, hosting a Jewish quarter, its great harbour and its stunning Cathedral set right on the seafront.
Transfer to an authentic underground oil mill with an opportunity to learn some valuable facts on the medieval peasant culture by walking through olive groves, caves and country roads. The Puglia region has over 50 millions olive trees and it's the first producer of extra-virgin olive oil in Italy and the biggest single production region in the world. Tasting of the produce along with some other local delicacies.
Your day continues with a guided visit of Bari, Puglia's prosperous seaside capital,  with tangled streets and the charming old town reveal Romanesque churches, the riotous market and the elegant medieval piazzas, the beautiful St. Nicola's Basilica, home of Saint Nicolas, one of the most beloved saint in the whole world and father of the legend of Santa Claus; guided walk to other remarkable historical attractions, seaside promenade and busy pedestrian shopping area.
We'll finally experience the whole range of the local street food – panzerotti, sgagliozze and popizze in a charming trattoria.
Overnight in Polignano a Mare.
Day 4:
Polignano a Mare / Altamura / Matera / Polignano a Mare (km 140)
The first destination today is Altamura, hometown to the best bread in Italy, where we'll visit an old bakery and taste the local glory, focaccia.
Transfer to Matera in the Basilicata region, another astonishing UNESCO World Heritage Site: this city has gained international fame for its ancient town, the "Sassi di Matera" (meaning "stones of Matera"). The Sassi originate from a prehistoric (troglodyte) settlement, and are suspected to be some of the first human settlements in Italy. Because of the ancient and primitive scenery in and around the Sassi, it has been used by filmmakers as the setting for ancient Jerusalem: a good number of famous biblical period motion pictures were filmed in Matera, amongst which Mel Gibson's blockbuster "The Passion of the Christ". Lunch at your leisure.
To complete such a glorious day, what's best then a dinner al fornello? You'll be served with various cuts of local meats in a butchery (yes, a proper butchery!) hosting some quite simple seating.
A real Apulian experience!
Overnight in Polignano a Mare.
Day 5:
Polignano a mare / Alberobello / Ostuni (km 110)
Visit of Polignano a Mare to admire the impressive panoramas from the seaside terraces overhanging the rock, and why not, indulging yourself with a tasty gelato or granita, pride of the locals.
Between May and October we won't miss to admire the breathtaking Grotta Palazzese, a marine cave carved out of magnificent limestone rocks, with an unparalleled view over the blue-green Adriatic.
Following, guided walk of Alberobello, the World Heritage Site of fairy-tale trulli, traditional dry stone huts with conical roof, constructions specific to this area of the region.
Visit the wine museum and the adjacent winery, with tasting of their premium wines and local snacks.
Hard work in the afternoon: you'll be involved in a cookery course in which you'll learn how to make fresh pasta and limoncello in a charming 1600' masseria (farmhouse) immersed in a wonderful expanse of olive trees. And your dinner today will be based on your efforts!
Lodging in a beautiful relais in Ostuni.
Day 6:
Ostuni / Grottaglie / Locorotondo / Ostuni (km 100)
Departure toward Grottaglie, the "city of ceramics" as it's called because of the large number of traditional and artistic artisanal pottery laboratories scattered in this medieval town.
With a pleasant trip through the dramatic scenery of the Itria Valley we'll first visit an estate producing an extraordinary quality of typical cold cut called capocollo, which we'll enjoy accompanied by a glass of sparkling Verdesca wine.
In the afternoon visit of Ostuni, regarded as an architectural jewel, commonly referred to as "the White Town" for its white walls and its typically white-painted architecture. Get lost in the hundred alleys, amongst workshops and Baroque churches.
Back to your relais, dinner in its 1 Michelin star restaurant (a la carte beverages).
Overnight in Ostuni.
Day 7:
Ostuni / Lecce / Otranto / Ostuni (km 250)
Early departure toward Lecce, commonly nicknamed "The Florence of the South" because of its countless Baroque beauties, with its lovely centro storico (historic centre) and Roman ruins; treat yourself to local delicacies like puccia (flat bread filled with your choice of salami and everything else!) and pasticciotto (sweet cake filled with lemon custard) – lunch at leisure.
In the afternoon, visit of the coastal town of Otranto, at the eastern extremity of Italy, with its castle overlooking the harbour and the Cathedral, preserving an incredibly big mosaic pavement.
On the way back to Lecce we'll dine in a typical trattoria, brightened by a group of traditional Pizzica folk dancers.
Overnight in Ostuni.
Day 8:
Departure and arrivederci!
Breakfast. Farewell meeting and transfer to Bari/Brindisi airport.
Cost & Details
What's included
The rate include:
Transfers in GT bus or minibus from/to Bari and/or Brindisi airport
Private bus or minibus available throughout the tour
7 lodgings in b&b service in 4-5 stars hotels
3 special dinners with typical menu in selected restaurants, beverages included (except where indicated)
1 private cooking class with dinner
1 dinner in a Michelin restaurant
4 food and wine tasting in wineries and food manufacturing sites
Admission tickets to Castel del Monte and all other sites as from the program
All luggage transfers
8 days of professional, local guides with knowledge of the secrets and stories of the region
Medical and luggage insurance throughout the tour
Detailed map and a small complimentary gift
The rate do not include:
Cost to reach Puglia
Cancellation insurance (can be quoted separately)
Alcoholic drinks, personal expenses and tips
Extras
Everything not clearly included in the paragraph "The rate include"